Refer IT Associates
IT Associates is a leading information technology company based in Brisbane that has grown considerably since its inception in 2002 by working with customers to become their complete technology partner.



Just like your business, IT Associates relies on referrals from our customers, partners and friends to continue to grow and develop our business. We appreciate you taking the time to share the name of someone you believe would be well served by the IT Associates team.

Refer a Friend or Colleague

We respect your privacy. Your information will never be given to another party and you can opt out from our communications anytime if you wish.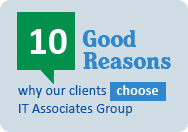 Virtualisation can help save your business serious money by consolidating server hardware resources, reducing downtime dramatically and consuming much less power.